OxyGo FIT: Meet our tiny NEW addition!
Do your patients have the right oxygen system to FIT their lifestyle?



We at OxyGo® have an exciting new product that is going to take the portable POC market by storm. Say hello to the new OxyGo FIT™; our newest, extremely lightweight portable 3 setting concentrator.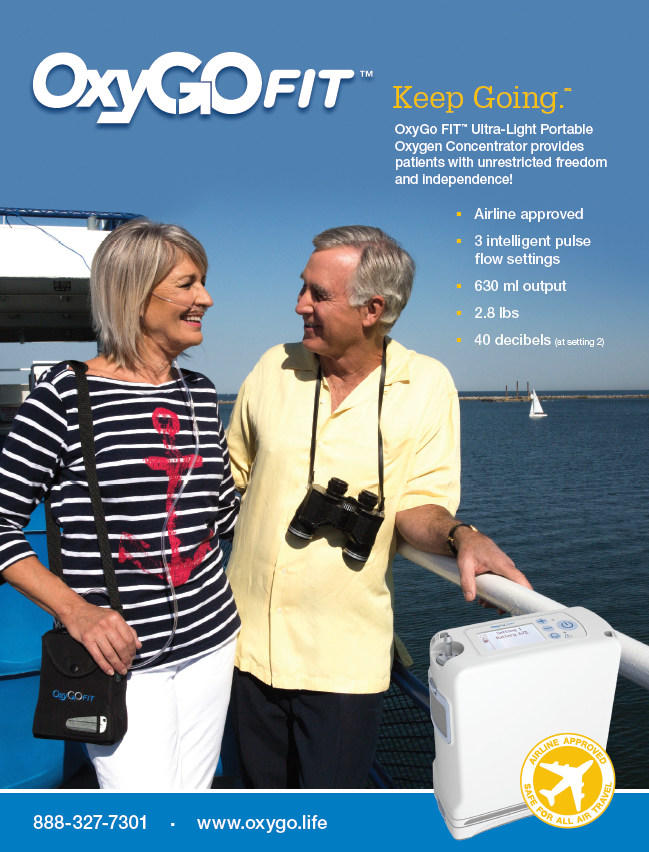 We named our newest POC the OxyGo FIT because it is going to "fit" into just about all of your oxygen patients' lifestyles. It weighs just 2.8 pounds and has 3 settings. Like our new 5 setting OxyGo, it delivers 210 ml of oxygen per setting. So your patients will be receiving 210 ml, 420 ml, and 630 ml of oxygen at settings 1, 2, and 3 respectively. And just like its big brother, the OxyGo FIT is well constructed and will operate for almost 3 hours using a standard battery.
The OxyGo FIT has an optional larger battery, which will power the OxyGo FIT for up to 5 hours and adds less than one-half pound in weight. Either battery can be changed in seconds. Most of your patients will be able to replace the battery themselves, thus eliminating costly service calls.
Be sure to visit us at Medtrade in Atlanta, Booth #1057 for a free demonstration!